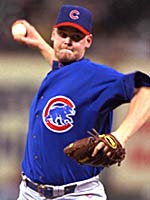 Cubs management should take Kerry Wood's words to heart and make some changes, before it's too late.
I'm not a "Cubs fan" (like The Cubs Fan), but I live close enough to Chicago that Cubs games on WGN have always been a good bulk of the baseball I've watched, and therefore, I follow the team closely enough to see what's going on with them.
What's going on with the Cubs this year?
I'll tell you, it's a question with many answers. They're a stupid team this year, nearly everyone is underachieving, and they don't seem to be playing with any urgency, despite Kerry Wood's vicious tirade against his own team.
You could argue that early May isn't a time for urgency since, after all, the Oakland A's fought back to win 102 games after a slow start just last season. But if you want to tell me that this team is as good as last year's A's, then I think I'll ask you what drugs you're on and kindly move along.
The biggest problem, to me, is the stupidity factor. What in the hell were they thinking about when they picked up Donovan Osborne? Donovan Osborne! He's had more stints on the DL than Sam Malone had ditzy broads, but the Cubs decided that carrying Donovan Osborne would help their team.
And, to the shock of roughly negative-seven people worldwide, Osborne is in the familiar position of being on the 60-day disabled list, and after this crushing blow was dealt to the team, the Cubs brought up Pat Mahomes from Triple-A.
I'll let that set in.
...
...
...
Yes. Pat Mahomes. A team that had hopes -- legitimate hopes -- of competing for a division title employed both Donovan Osborne and Pat Mahomes. Pat Mahomes has his advantages, to be sure, and those advantages are that no one expects anything from him, and you'll never be surprised when he goes out for two innings of relief and gives up four runs.
Pat Mahomes has been useful about 1.5 seasons out of his entire career, and has sucked every moment of it besides that. Why bother with this? Bullpen depth is nice and all, but they had Scott Chiasson, a major league-ready lefty, in Triple-A while Donovan Osborne got hurt, and only when Osborne predictably farted and broke a nail was he going to be promoted. You can't compete like this.
Some have said that bringing Mahomes up before Mark Prior is the right thing to do, since he gives Chicago's injury-slaughtered bullpen a more "reliable arm", or whatever. I don't think that's the question. I think the question is whether or not Pat Mahomes can do anything for the Chicago Cubs that any number of Double-A and Triple-A pitchers can't do just as well, or just as poorly, as the case may be.
When Prior does come up, which should be as quickly as possible if they seriously want to get this team back in contention, he should obviously be handled with kiddie gloves for his first seven or eight starts, but then let him loose. He's got the arm, obviously, and I don't know if the Cubs have picked up on this, but Jason Bere is, politely put, an "innings-eater", and Juan Cruz isn't 0-7 simply because of bad luck.
What about the hitting?
The hitting has been a huge part of Chicago's problems, as well, as they just haven't scored runs. But Moises Alou and Fred McGriff will come around. Sammy Sosa won't hit 60 home runs with 79 RBI this season. You can count on Bill Mueller to be his usual all-contact, no-power self out of (hopefully) the No. 2 or No. 6 spot in the lineup. They have Bobby Hill up at second base, Corey Patterson is looking like he's for real in center, and outside of catching, there isn't a truly "weak" spot in the lineup in terms of what the players should be doing.
While Bere flat-out stinks and Cruz simply appears to not be ready, Alex Gonzalez has some pop in his bat (if you can handle the strikeouts) and a good glove at shortstop. There's something he can do other than "eat innings", which I've always thought was a nice way of saying that a guy will occasionally have a good start but then give you four or five crappy ones in between.
The Cubs' problems can definitely be fixed in-house as far as the hitting goes, but their pitching has been an absolute nightmare of injury and dumbness, and something needs to change. They need to commit right now to playing Bobby Hill unless he's really, really bad, because any slump he could have can just as easily be matched by Delino DeShields or Mark Bellhorn or Chris Stynes or Augie Ojeda. They need to keep on playing Patterson, even if he hits some hard times, which he will.
Chicago must stick by their talent, and the core of that lies with Sammy Sosa, Moises Alou, Kerry Wood, Fred McGriff, Jon Lieber, Corey Patterson, Bobby Hill and Mark Prior. These are the guys on their club (or at least in the system) that either are or can be special this season for the major league club. The rest of the guys are likely to be themselves or close enough to it, and if those guys can get going, the Cubs could be back in the race for good. But they need that committment from the team, and that means not benching Fred McGriff to play Mark Bellhorn. What did they hope to accomplish with that, exactly?
The Cubs have three roads to go down this season. They hang tough and pull it all together, they continue the slumps and erratic decision-making and play footsie with the Brewers in the NL Central basement, or they go nuts and have themselves a firesale, leaving them next year where they were a few years back, and where they always seem to end up again: starting over nearly from scratch and trying to build a club around one or two good players.
Unfortunately, I don't think we can rule out number three. So goes the endless story of the Chicago Cubs.


All written content copyright 2001-2002 of the individual author. No works may be reproduced without the express written consent of the author. All photos used herein copyright their respective owners, and assumed to be of public domain. Site is operated by Scott Christ.