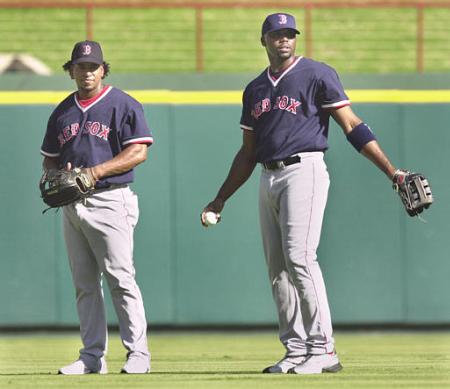 Boston hopes Cliff Floyd (right) will help Manny Ramirez in the middle of the order and break their slump.
The non-waiver trading deadline passed on July 31st, and only a few big-name players managed to switch teams. There is still the month of August to complete a deal, but players traded now must go through revocable waivers, and any team can claim them and block the deal. Teams are reluctant to do this after the Padres claimed Randy Myers when they thought he was going to Atlanta, and ended up paying him millions of dollars for a career-ending injury.
Here's a look at some of the bigger deals completed near the July 31st deadline:
Boston sends Sun-Woo Kim, Seung Song, and a PTBNL to Montreal for Cliff Floyd.
The Expos were only 7-11 since they acquired Floyd, so keeping him didn't make much sense. Basically, Omar Minaya turned the two pitching prospects he gave up for Floyd into two good pitching prospects from the Red Sox. Floyd, who hits both right-handers and left-handers well, will benefit from the Green Monster once he gets accustomed to hitting in Fenway. He should replace the dreadfully disappointing Tony Clark at first base, but it looks like he'll be spending his time in the outfield. This was a good deal for both sides.
St. Louis sends Placido Polanco, Bud Smith, and Mike Timlin to Philadelphia for Scott Rolen, Doug Nickle, and cash.
The Cardinals helped themselves in two ways here. First, they acquired the best everyday third baseman in the National League. Second, they can now shift Albert Pujols to the outfield, where he's been hitting over 60 points higher than he has playing third. The Cardinals' problem, though, is their pitching; it's nice they upgraded their lineup, but that shouldn't have been their primary concern. Philly gets a valuable utility man in Polanco, who can play just about anywhere, but probably shouldn't be a starter, and a good middle reliever in Timlin. Bud Smith has been a huge disappointment the year after pitching a no-hitter, but he gives the Phils the potential to have an amazing five-man rotation next year. Nickle has long been regarded as the Phillies' best relief prospect. A pretty good deal for both sides, but one that favors St. Louis in the short term.
Chicago (AL) sends Kenny Lofton to San Francisco for Felix Diaz and Ryan Meaux.
Lofton has cooled significantly from his great start to the season. He's still a quality leadoff man, though, and while he's not the outfielder he once was, he's a better option than Marvin Benard. Diaz and Meaux are both regarded as decent prospects, but neither has pitched above AA yet. Lofton is a worthwhile risk for the Giants to take, and for the White Sox to trade so Aaron Rowand can play, so this is a pretty good deal for both sides.
Chicago (AL) sends Ray Durham to Oakland for Jon Adkins
Durham brings his 20 steals and nearly .400 OBP to an Oakland team that could use both. Terrence Long (.314) and Mark Ellis (.337) hadn't been getting on base enough out of the leadoff spot, a problem Durham will solve. The A's are very high on Ellis, who had been their starting second baseman since getting recalled in early June. Oakland was auditioning Durham in the outfield during pregame drills, but he decided he didn't like it. To keep Ellis in the lineup, Oakland has played Gold Glove (and creaky-backed) third baseman Eric Chavez in the outfield. Adkins is a AAA pitcher whose ERA this year was over 6.00. An excellent trade for the A's, and another Mike Sirotka deal for the Sox.
New York (NL) sends Jay Payton, Mark Corey, and Robert Stratton to Colorado for John Thomson and Mark Little.
Thomson has pitched well for the Rockies this year (at least as well as someone pitching half their games in Colorado can pitch), and will replace Jeff D'Amico in the Mets' rotation. He's cooled off somewhat after a hot start, but is still a better alternative than D'Amico. Little is a reserve outfielder who might see some time against lefties. The disappointing Payton has been better this year than last year, and should see his numbers jump in Colorado. Corey is a nondescript right-handed middle reliever. Stratton is a minor-league outfielder with power, but nothing else going for him, so he's not really a prospect. Basically, the Mets traded a fourth outfielder for a moderate upgrade in their starting rotation. The downside for them is that Timo Perez becomes their everyday center fielder. It's a decent trade for the Mets (though it will look better if Thomson puts up good numbers at Shea), and a rather pointless trade for the Rockies.
In other trades that won't impact the races as much, the Mets added middle reliever Steve Reed for the perennially disappointing Bobby Jones (Ed. Note: No, this was the other Bobby Jones, Bobby M. Jones -- the Padres already had the perennially disappointing Bobby J. Jones), The Angels added Alex Ochoa and basically gave up Jorge Fiberglas . . . er, Fabregas, The Indians picked up Ricardo Rincon for a prospect, and the Red Sox acquired workhorse reliever Bob Howry from the White Sox to take the place of Rich Garces, who has had a dreadful season.
There is still almost a month to go before trading comes to a close in baseball this season. Given the Randy Myers Dilemma teams are looking at, a few big name players could slip past waivers and affect the races for the last month of the season. Carl Everett, Ivan Rodriguez, and Roberto Hernandez lead that list, Tampa Bay should try to get something for the snakebitten Paul Wilson or closer Esteban Yan, the Orioles could move one of their many 1B/DH/corner outfield types, and the White Sox might as well raise the white flag for real and purge themselves of Keith Foulke.
As usual, the last two months of the season shape up as interesting, both for the deals that are made and the ones that never happen.